Description
Safety
Safe and precise sectioning
Hand control allows the surgeon to have full attention to the procedure
Leaves the surface clean and coagulated
Coloured insulation together with the golden loop wire optimize visibility on the monitor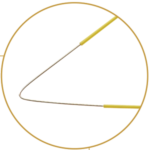 Versatility
Minimize procedure time
The LiNA Gold Loop HC is a safe and effective monopolar loop for sectioning of the uterus during Laparoscopic Supracervical Hysterectomy (LSH)
• Clean and effective cut each time
The unique hand controlled LiNA Gold Loop HC is designed to perform uterus sectioning in a few seconds! The monopolar loop performs a safe and precise sectioning of the uterus leaving the cervix with a clean and coagulated surface. A successful result every time.
• Cut and coagulation in one simple step
 The LiNA Gold Loop HC performs an optimum cut and coagulation during the procedure and thereby eliminates the necessity for post-coagulation of the surface.
• Ready and easy to operate
When the handle is pushed forward the loop opens and is ready for use. The rigid cannula optimizes manoeuvrability.
• No need for foot pedal!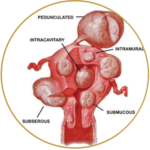 Functionality
Unique hand controlled monopolar loop applicable for various sizes of uteri
3 loop sizes: small (160mm x 80mm), large (200mm x 100mm) and X-large (240mm x 120mm)
LiNA Gold Loop HC has a standard 3-pin monopolar plug to fit most electrosurgical units
| | | |
| --- | --- | --- |
| REF. | Product | Packing |
| EL-160-H | LiNA Gold Loop HCTM – 5mm Endoscopic Hand Controlled Monopolar Loop for Laparoscopic Supracervical Hyster- ectomy and Myomectomy. Dimensions of loop: 160mm x 80mm. With 3 meter cable and 3-pin ESU connector | Box of 6, sterile, single use |
| EL-200-H | LiNA Gold Loop HCTM – 5mm Endoscopic Hand Controlled Monopolar Loop for Laparoscopic Supracervical Hyster- ectomy and Myomectomy. Dimensions of loop: 200mm x 100mm. With 3 meter cable and 3-pin ESU connector. | Box of 6, sterile, single use |
| EL-240-H | LiNA Gold Loop HCTM – 5mm Endoscopic Hand Controlled Monopolar Loop for Laparoscopic Supracervical Hyster- ectomy and Myomectomy. Dimensions of loop: 240mm x 120mm. With 3 meter cable and 3-pin ESU connector. | Box of 6, sterile, single use |